Dr. Anthony Rose, President of the Biosynergy Institute and Director of Conservation for the Gorilla Foundation, has been in Cameroon since mid-November assessing two projects and supporting the production of a documentary film. We will bring you regular reports.

prior installment | next installment | about the trip
November 26th Report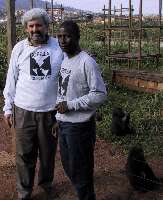 LETTER 3 FROM YAOUNDE, CAMEROON --
Dr. Anthony Rose
click any image for a larger view!!

We are preparing to go into the bush. Tomorrow we cross into the Eastern Provence and set off across red clay roads through the forest. We expect to spend 10 days with our friends and colleagues, Joseph Mellow and Mark VanderWal in Lomie and in the villages and forests outside the Dja Reserve.

Earlier this week Joseph and Mark visited with us here in the national capital. They are encouraged with the progress protecting the forest and the gorillas. Both agreed that the critical path is to work constantly and effectively to motivate and organize the people to improve their own lives at the same time that they preserve the lives of the animals in the forest.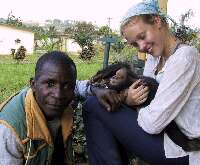 While here at the Yaounde Zoo, Joseph met our education research associate, Zinta Zommers, from Toronto University. They compared experience, hers examining the effects of lessons with Koko's Kitten on school children: his attempting to instill a concern for apes in the wild.
Joseph and I made plans for the time we will spend together. He hopes to take Kerry Bowman and me out to the forest camp where the gorilla habituation team stays. With luck, I will return to Yaounde on December 10th and be able to post photos of the lowland gorillas who have been tracked for the past year.
Tune in here for December 11th for my report from the forest!
To discuss involvement now, email Kevin@koko.org (Kevin Connelly)

If you wish to support these vital new projects you are invited to make a donation to the WILDLIFE PROTECTORS FUND. Community aid professionals and corporate and non-profit leaders wishing to partner in the expansion of these programs are invited to contact Kevin Connelly, Director of Development for the Gorilla Foundation at (650) 216-6450 or by email to kevin@koko.org.
prior installment | next installment | about the trip