Dr. Anthony Rose, President of the Biosynergy Institute and Director of Conservation for the Gorilla Foundation, has been in Cameroon since mid-November assessing two projects and supporting the production of a documentary film. We will bring you regular reports.

prior installment | next installment | about the trip
November 25nd Addendum
click any image for a larger view!!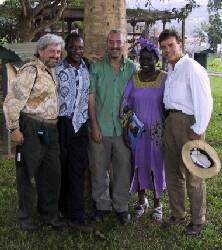 Chris Mitchell, Director of Cameroon Wildlife Aid Fund (CWAF), is shown here with the education team. Among his many responsibilities, Chris has overseen the management of the education project using Koko's Kitten in schools and villages in the area around Yaounde, Cameroon. Without the vital support of Chris and his assistant Director - Francis Kameni, the development of curriculum, implementation of teaching exercises, and research into the effects of the program could not take place.
The Gorilla Foundation and Biosynergy Institute are committed to help CWAF with their myriad important programs, as they have so ably helped us with this promising effort.
Tony Rose, from Yaounde, November 25, 2000
To discuss involvement now, email Kevin@koko.org (Kevin Connelly)

If you wish to support these vital new projects you are invited to make a donation to the WILDLIFE PROTECTORS FUND. Community aid professionals and corporate and non-profit leaders wishing to partner in the expansion of these programs are invited to contact Kevin Connelly, Director of Development for the Gorilla Foundation at (650) 216-6450 or by email to kevin@koko.org.
prior installment | next installment | about the trip