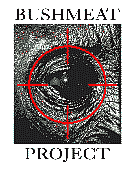 CONTACT:
WILDLIFE HUNTING IN AFRICA:
A Working Bibliography on Bushmeat Commerce
Compiled by A. Rose, K. Ammann, J. Linder, & M. Conant
The Biosynergy Institute, Hermosa Beach, CA 90254
You are invited to use and contribute to our bibliography. Please describing the materials and how to access them. Ideas for expanding or modifying the topics are also welcome. This is an open collaborative effort -- every relevant input will be considered and included.
Section 3: THE AFRICAN BUSHMEAT CRISIS
Commercial Bushmeat Industry
Hennessey, A. B., 1995, A Study of the Meat Trade in Ouesso, Republic of Congo. GTZ, Brazzaville.
Njiforti, H. L., 1996, Preferences and present demand for bushmeat in North Cameroon: some implications for wildlife conservation, Environmental Conservation, 23(2): 149.
Steele, E. A., 1994, Study of the Value and Volume of Bushmeat Commerce in Gabon, WWF & Gabon Ministry of Forests & Environment, Libreville.

Bushmeat Crisis Reports
Ammann, K., 1994, The bushmeat babies, BBC Wildlife, Oct.: 16-24.
Ammann, K., 1995, Logging and the Bushmeat Trade, Report to World Society for the Protection of Animals.
Ammann, K., 1996a, Halting the Bushmeat Trade: Saving the Great Apes, Talk at World Congress for Animals, Wash. DC, June 22.
Ammann, K., 1996b, Timber and bushmeat industries are linked throughout west/central Africa. Talk at MINEF's Conference on the Impact of Forest Exploitation on Wildlife, Bertoua, Cameroon.
Ammann, K., 1996c, Primates in peril. Outdoor Photographer, Feb.: 58-61, 76.
Ammann, K., 1989-present, Personal communication, Nanyuki, Kenya and Hermosa Beach, CA.
Ammann, K., and Odenwald, M., 1996, Die Letzte Schlacht, Focus, 12: 190-93.
Ammann, K., Pearce, J., 1995 Slaughter of the Apes: How the Tropical Timber Industry is Devouring Africa's Great Apes, London, World Society for the Protection of Animals.
Ammann, K. et al., 1995, Carne di gorilla. Ti mango perche mi somigli. Airone, 168: 55-57.
Anonymous, 1989a, Seizure and Prosecutions, TRAFFIC Bulletin, 10:37.
Anonymous, 1989b, Primate killing in Africa, IPPL Newletter, 16(2): 13-14.
Anonymous, 1991, Seizure and prosecutions, TRAFFIC Bulletin, 12: 25.
Anonymous, 1992, Seizure and prosecutions, TRAFFIC Bulletin, 13:75.
Anonymous, 1994, Seizure and prosecutions, TRAFFIC Bulletin, 15:113.
Eliot, J., Ammann, K., 1996, Who will care for orphans of Primates killed for food? Earth Almanac, National Geographic Society, February.
McRae, M. & Ammann, K., 1997, Road kill in Cameroon, Natural History Magazine, 106 (Feb.): 36-47, 74-5.
Meares, R., 1996, Gorilla, anteater on the menu in Cameroon, Reuter, _____.
Melloh, J.,1996-1997, Personal communication, Audio & Video, Bertoua, Cameroon, April.
Redmond, I., 1989, Trade In Gorillas And Other Primates In The Peoples Republic Of Congo, IPPL.
Redmond, I.,1995, The Ethics of Eating Ape, BBC Wildlife 13(10): 72.
Rose, A. L., 1996a, Crisis in conservation: the commercial trade in great ape bushmeat. Talk at conference on Primate Conservation in the 21st Century, So. Cal. Primate Research Forum, Fullerton.
Rose, A. L., 1996b, Commercial exploitation of great ape bushmeat. Pp. 18-20 in , Rapport Du Seminaire Sur L'Impact De L'Exploitation Forestiere Sur La Faune Sauvage, Ngoufo, R., Pearce, J., Yadji, B., Guele, D., and Lima, L (eds.), Cameroon MINEF & WSPA, Bertoua.
Rose, A. L., 1996c, The bushmeat crisis is conservation's first priority. Talk at IUCN Primate Conservation Roundtable on an Action Agenda, at Joint Congress of IPS/ASP, Madison, WI.
Rose, A.L., 1996d, The African forest bushmeat crisis, African Primates, 2(1): 32-34.
Rose, A.L.,1996e, The African great ape bushmeat crisis, Pan African News, 3(2):1-6.
Rose, A.L. and Ammann, K., 1996, The commercialization of the great ape bushmeat trade: A conservation crisis. Report to ASP Conservation Committee & Joint Congress of IPS/ASP, Madison, WI.
Rose, A.L. and Ammann, K., 1998, Eating Apes: Facing the Cannibal Man, unpubl. ms.
Strieker, G., 1997, Gorillas are endangered prey in central African forests, CNN Interactive - Earth, CNN Web Page, Feb. 21.
ZSE-TV / Incha Productions, 1996, Twilight of the Apes, Johannesburg, South Africa.

Bushmeat Action Programmes
Adoun, C., 1992a, Pre-extension of grasscutter production: concepts and experience of the Benin/German Grasscutter Project, First Conference on Grasscutter Production, Cotonou, Benin, pp. 35-40.
Ajayi, S. S., 1978, Observations on the biology and nutritive value of the African giant snail (Archachatina marginata), East Afr. Wildlife J., 16: 85-95.
Dasmann, R.F., African Game Ranching, New York, Pergamon Press: The MacMillan Company.
Duffus, D., 1993, Tsitika to Baram: the myth of sustainability, Cons. Biol, 7: 440-42.
Feer, F., 1993, The potential for sustainable hunting and rearing of game in tropical forests. Pp. 691-708 in Tropical Forests: People and Food, Hladik, C.M., Hladik, A., Linares, O.F., Pagezy, H., Semple, A., and Hadley, M. (eds.), Man and the Biosphere Series, vol. 13, UNESCO and Parthenon Publishing Group, Paris.
Geist, V, 1985, Game ranching: threat to wildlife conservation in North America, Wildlife Society Bulletin, 13: 594-598.
Groves, J. and Randall, A., 1996, The Limbe Zoo and Wildlife Rescue Center, Project report, 29.
Jori, F., Mensah, G. A., and Adjamohoun, E., 1995, Grasscutter production: an example of rational exploitation of wildlife, Biodiversity and Conservation, 4: 257-265.
Rose, A.L., Ammann, K. and Strum, S., 1996, Developing Alternatives to Endangered Bushmeat: An International Programme of Community Based Partnerships, The Biosynergy Institute, Los Angeles, CA.
Thomas, D.W. and Mbenkum, F.T., 1987, Medicinal and food plants from Cameroon's forests. Development and conservation, UNDP/FAO.


---
Other Sections of the Bibliography




THE BIOSYNERGY INSTITUTE

P.O. Box 488
Hermosa Beach, California 90254
USA


---